Gift Island Reception and Performance with Taraka
5-8PM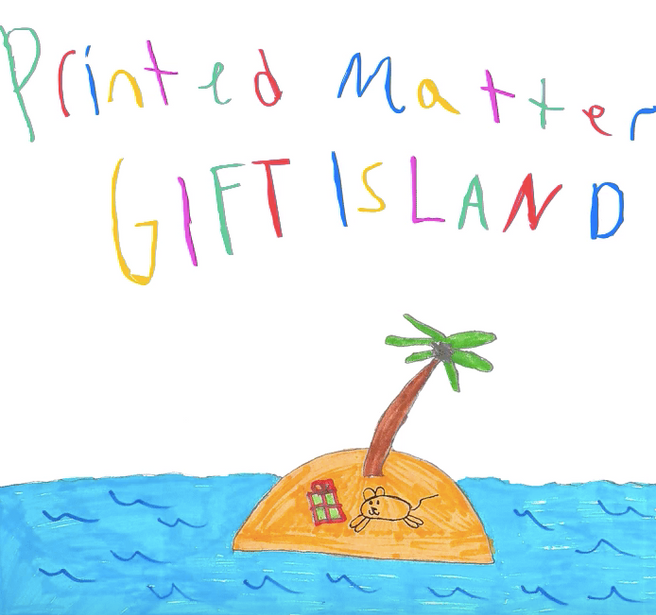 Printed Matter is excited to present our annual selection of artist made gifts! Visit our island getaway of multiples, posters, editions and books to shop for friends, family, and yourself this holiday season while simultaneously supporting artists and the arts non-profit that supports them.
Featured artists include Somnath Bhatt, Joe Bochynski, C.F., Sigrid Calon, Anna Campbell, Chang Yuchen, Colab, Chris Collins, Ethan Crenson, Heidi Cody, Anyse Ducharme, Maggie Dunlap, Façadomy, Nico Fontana, Fuse Works, GenderFail, Gonzalo Guerrero, Yiran Guo, Erik Hanson, Jeff Hartford, Becky Howland, Roy Neil Hunter, Juliana Huxtable, Jeremy Jams, Misaki Kawai Christina Kelly, Emma Kohlmann, Ginette Lapalme, Sascha Mallon, John Marriott, Christina Martinelli, Chandler McWilliams, Aleksandra Mir, Caroline Paquita, Alison Peery, Adam K. Rosenthal, Christy Rupp, Tamara Santibañez, Secret Riso Club, Julia Schlosser, Nichole Shinn, Paul Shortt, Cory Emma Siegler, Jan Lynn Sokota, Sable Elyse Smith and Cal Siegel, VISITOR, Angie Waller, Rose Wong, XVK.
Celebrate with us on December 18th from 5-8PM with a reception and performance by Taraka at 6:30. Join the facebook event here!
Since the breakup of legendary cult band, Prince Rama, former front-girl Taraka Larson has thrown herself headlong into the dark existential world of her "inner teenager", merging bastard elements of psych, lo-fi, spiritual pop punk and post-modern angst. A departure from Prince Rama's sparkly dance-pop sound, Taraka's solo project is primal, electrifying, dirty and unapologetically life-affirming. Her disheveled anthems fuse a combination of shamanism, performance art, and ecstatic punk ritual. The project was birthed while living in an art gallery in solitary confinement with a seven foot long gopher snake as an attempt to return to a pre-internet Eden. She picked up an electric guitar and started searching for that place of lost innocence, then realized she had to go no further than her own bedroom. Literally performing from atop an unmade bed, she transforms the stage into an intimate ontological slumber party where barriers between performer and spectator are blurred and all dissolves into chaos, ego-death, and pure love. If Kate Bush and Johnny Rotten had a disturbed daughter who dropped acid at the gates of Warped Tour '02, her hazy visions would perhaps reflect a close fractal of what attending a Taraka concert feels like.
Not much can faze Taraka Larson – born on Beethoven and Philip K Dick's birthday, she grew up in ashrams; lived on black metal communes; worked for utopian architects; written manifestos; delivered lectures from pools of fake blood; conducted group exorcisms disguised as VHS workouts; designed a whole line of byzantine extreme sports wear; and toured the world extensively with her band, Prince Rama. The band has become much of a cult enigma over the years, riding the fine line between rock n roll and performance art and are perhaps the only band who have been able to simultaneously incite mosh pits and stage dive while paradoxically reaching #3 on the Billboard New Age charts. Through the lens of music, Larson has created an unconventional visual arts practice and has exhibited internationally at the Whitney Museum of Art, Indianapolis Museum of Contemporary Art, and the MoMA PS 1 VW Dome, to name a few. She has also published several manifestos on the "NOW AGE" a pseudo-religion she created to practice post-internet utopianism that puts forth her music's aesthetic and metaphysical philosophies, earning both hatred and praise from art and music worlds alike. Her latest manifesto "Xtreme Now" is a meditative examination of speed art, extreme sports, and the sublime experience.
Drawing by Janielle Gutierrez
Facebook
Tweet