Artists on the News: Selections from Creative Time Reports
4-6PM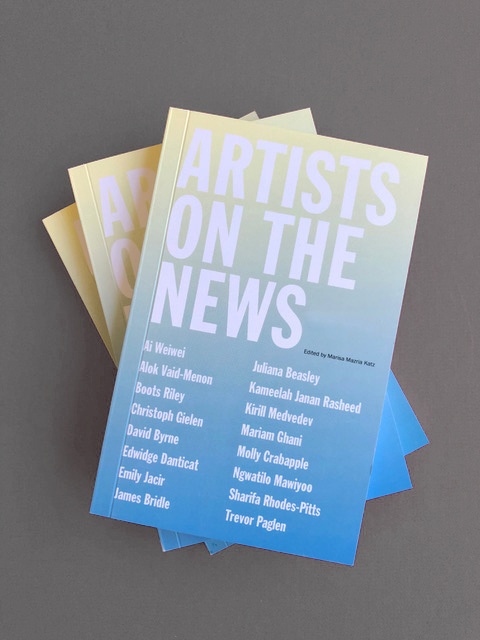 Printed Matter is pleased to host a discussion between Ken Chen, Marisa Mazria-Katz and Laura Raicovich for the launch of Artists on the News.
Join the facebook event here!
Artists on the News highlights a selection of works from Creative Time Reports, a multimedia platform launched by Creative Time that provided artists from over 50 different countries with a space to voice analysis and commentary on issues too often overlooked by mainstream media. Edited by Marisa Mazria-Katz, "Artists on the News" features contributions from Ai Weiwei, Juliana Beasley, James Bridle, David Byrne, Molly Crabapple, Edwidge Danticat, Mariam Ghani, Christoph Gielen, Emily Jacir, Kareem Estefan, Ngwatilo Mawiyoo, Kirill Medvedev, Trevor Paglen, Anne Pasternak, Laura Raicovich, Kameelah Janan Rasheed, Sharifa Rhodes-Pitts, Boots Riley, and Alok Vaid-Menon.
Ken Chen is the recipient of the Yale Younger Poets Award, the oldest annual literary award in America, for his book Juvenilia, which was selected by the poet Louise Glück. An NEA, NYFA and Bread Loaf fellow, Chen co-founded the cultural website Arts & Letters Daily and Culture Strike, a national arts organization dedicated to migrant justice. He served as the Executive Director of the Asian American Writers' Workshop from 2008 to 2019. A graduate of Yale Law School, he successfully defended the asylum application of an undocumented Muslim high school student from Guinea detained by Homeland Security. He is currently a Cullman Fellow at the New York Public Library, where he is working on Death Star, a book about his traveling to the underworld and seeing there everything that has been destroyed by colonialism.
Marisa Mazria-Katz is a New York-based journalist/editor born and raised in Los Angeles. Marisa was the founding editor of Creative Time Reports. She has contributed to numerous publications and television channels on culture, politics and design, including The New York Times, Time, Financial Times, Foreign Policy, The Guardian, The Economist, The New Republic, The Washington Post, The Wall Street Journal, Vogue, Art Asia Pacific (contributing editor), Chicago Tribune and Metropolis Magazine. In 2018, Marisa was a Kickstarter Fellow. In addition to her writing, Marisa is the editorial director for Eyebeam, where she oversees the newly launched Center for the Future of Journalism.
Laura Raicovich is a writer and curator. She is currently working on a book about museums, cultural institutions, and the myth of neutrality (Verso, 2020) which will delve into how art and museums that embody complexity, poetics, and care can create a more thoughtful and equitable civic realm. She was also a Rockefeller Foundation Fellow at the Bellagio Center and is the recipient of the inaugural Emily H. Tremaine Journalism Fellowship for Curators at Hyperallergic. Until early 2018, she served as President and Executive Director of the Queens Museum where she oversaw an inviting and vital commons for art, ideas, and engagement. In 2018, she co-curated Mel Chin: All Over the Place (with Manon Slome and No Longer Empty), which occupied the entire Queens Museum and multiple public sites across the city. Prior to her three years at the Queens Museum, Raicovich inaugurated Creative Time's Global Initiatives, and worked for a decade at Dia Art Foundation, where she served as deputy director. She has also held positions at the Solomon R. Guggenheim Museum, Public Art Fund, and New York City's Department of Parks and Recreation. Raicovich lectures internationally and has published a number of books including as co-editor (with Carin Kuoni and Kareem Estefan) "Assuming Boycott: Resistance, Agency, and Cultural Production" (OR Books/Vera List Center for Art and Politics, 2017); and as author of "At the Lightning Field" (Coffee House Press, 2017) and "A Diary of Mysterious Difficulties" (Publication Studio, 2014). She graduated from Swarthmore College and holds a Master's Degree in Liberal Studies from the Graduate Center at the City University of New York.
Facebook
Tweet