Guerrilla Girls Art Museum Activity Book Expanded Edition
Launch and Reception with Guerrilla Girls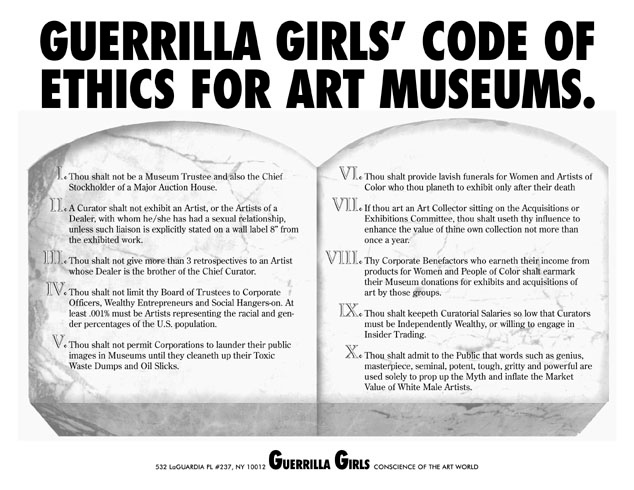 We're pleased to announce the new and expanded reissue of the Guerrilla Girls' Art Museum Activity Book, first published by Printed Matter in 2004 and long out of print. Please join us for a launch at the storefront on Saturday, March 31st, 5-7 PM, with the Guerrilla Girls in attendance. A selection of posters from past exhibitions and actions will be on display for the event.
In this expanded edition, the Guerrilla Girls once again square up with the 1% who run museums, revisiting the statistics first put forward nearly a decade ago. The reissue updates the failures and rife corruption of the major art institutions with a comic-book style call to action meant to parody the cutesy books produced by museums to teach children to respect High Culture. After sleuthing around in the galleries, board-rooms and financial portfolios of the Met, the Brooklyn Museum, the Whitney, the Guggenheim and the Museum of Modern Art, the Guerrilla Girls present eight fun and funny activities designed to encourage readers to fight discrimination, unethical behavior and conflicts of interest in museums everywhere.
Included are quizzes, a connect-the-dots museum floor plan, and a do-it-yourself museum store complete with arty sex toys and t-shirts with slogans the museums don't want you to see. The new edition includes an expanded section of Fun things the Guerrilla Girls Do To Museums, including 'Infiltrating the Venerable Venice Biennale' and coverage on how they have taken their institutional critique on the road.
Why do museums raise hundreds of millions for new buildings, and then complain that they don't have enough money to buy art? Why do they blow a fortune on a single painting by a white male genius when they could acquire hundreds of great works by women and people of color instead? Why do museum store execs get paid more than curators?
A bunch of anonymous females who fight discrimination with facts, humor and fake fur, The Guerrilla Girls have been re-inventing the F-word (feminism) since 1985. Using the names of dead women artists as pseudonyms, they appear in public wearing gorilla masks. They have produced over one hundred posters, stickers, books, printed projects, and actions that expose sexism, racism and corruption in the worlds of art, film, politics, and the culture at large.
The second edition is available for purchase "here":catalog/30799
Facebook
Tweet