Book Launch with Erik Lindman
4-6PM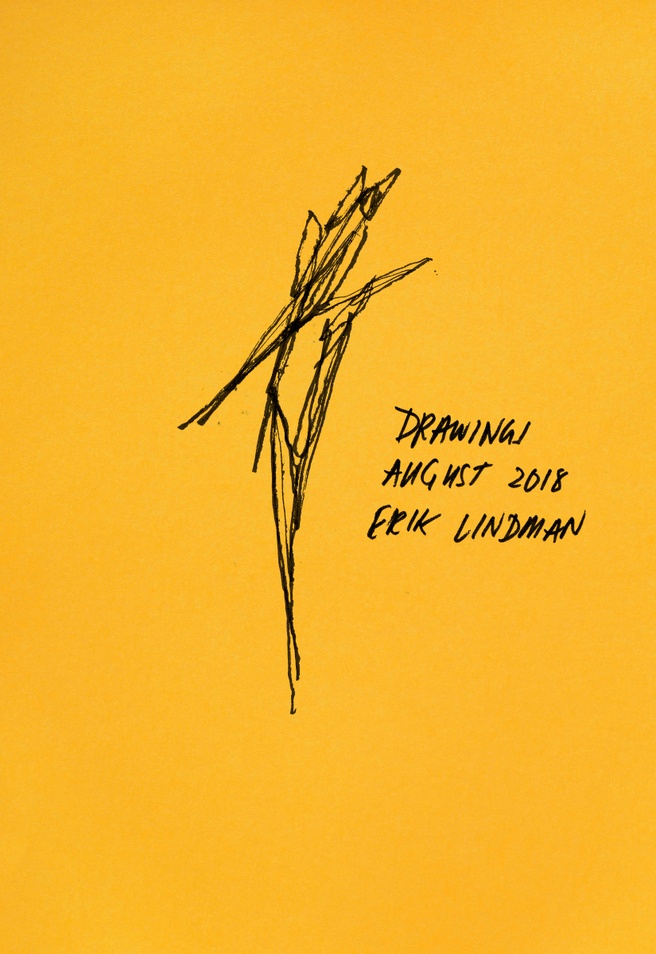 Printed Matter presents the launch of Erik Lindman's book Drawings August 2018 published by Hassla Books. The event will feature a talk with art historian Alex Bacon.
Join the facebook event here!
The world finds its way into my studio, smuggled in bit-by-bit through found shards of metal and broken plastic. The seismic fracture of this residuum continually orients itself along the lines of the world's own axes', a baseline of sky and ocean, haptic thresholds recreated within an endlessly self-replicating painterly pictorial language. Drawing fuels a specific feedback loop within this activity. A fine thread weaving through my paintings and sculptures, drawing unfolds lived impressions, and through this process, generates new linear expressions. At other times drawing facilitates observational investigations made in response to my sculptures themselves, a translation of a translation. The book, Drawings August 2018, presents the work from a sketchbook in the order and scale in which it was originally drawn. -Erik Lindman, 2019
Erik Lindman (b. 1985, New York) received his B.A. from Columbia University in 2007. Recent solo exhibitions include Erik Lindman, Almine Rech Gallery, New York (2017), Metal Paintings, Almine Rech Gallery, London (2016); and Torso, Ribordy Contemporary, Geneva (2016); He has been featured in group exhibitions throughout Europe and the U.S., including Expanding Frontiers: Propos d'Europe 15, curated by Rolf Hoff, Foundation Hippocrène, Paris (2016); The Painter of Modern Life, curated by Bob Nickas, Anton Kern Gallery, New York (2015); Pour une Grammaire du Hasard, curated by Corinne Charpentier, Fri Art – Centre d'art de Fribourg / Kunsthalle Freiburg, Switzerland (2012); and Golden Age: Reference Work, Museum of Contemporary Art, Chicago (2011). Lindman lives and works in New York.
Alex Bacon (b. 1985 London, UK) is a Curatorial Associate at the Princeton University Art Museum. Among his publications Bacon is co-editor, with Hal Foster, of a collection of essays on Richard Hamilton (MIT Press, 2010), as well as the author of texts in various exhibition catalogs and edited volumes on artists such as Francis Alÿs, Mary Corse, Josiah McElheny, Ad Reinhardt, Niele Toroni, and Stanley Whitney. He has written for numerous publications, including Artforum.com, Art in America, the Brooklyn Rail, Mousse, and Rhizome. He is currently completing his PhD in art history at Princeton, with a dissertation on the first decade of Frank Stella's career.
Facebook
Tweet