Strange Attractor Book Launch with Gryphon Rue
6-8PM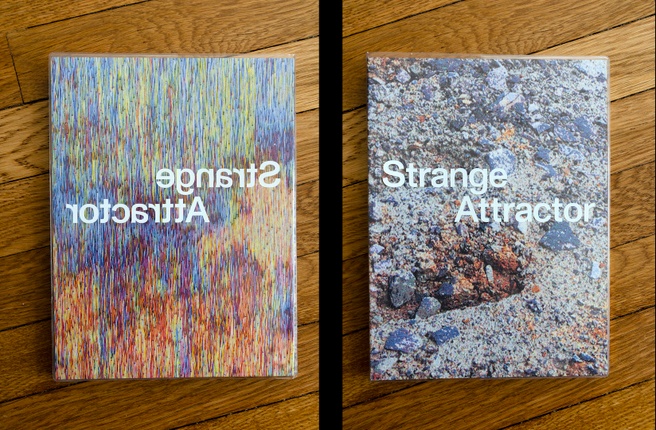 Join us for the book launch of Strange Attractor, an art book composed / edited by Gryphon Rue, and designed by IN-FO.CO.
The event, which will take place at Printed Matter / St Marks, will feature a talk by Gryphon Rue and a reading from the book.
"I'm interested in the artists' attempt to map their world, to order and make sense of it. This activity is not exclusive to artists; people do it constantly to find some relationships to abstractions, global events, invisible machinations of finance and those decisions that affect the future of the world." — Mark Lombardi
Strange Attractor takes its name from the inherent order embedded in various forms of chaos. Expanding on ideas and connections forged in the 2017 Ballroom Marfa exhibition of the same name organized by Gryphon Rue, Strange Attractor explores the uncertainties and poetics of networks, environmental events, technology, and sound.
Rue brings together artists and practitioners from a variety of fields to converse on the chaos, connections, and interpretations that narrate the stochastic topological dynamics of lived existence. The topic of sound pervades the book as a guide and narrator throughout a web of increasingly complex relationships between systems that reveal a backdrop of socio-political power, transmigration, and asylum.
Strange Attractor includes artworks from Lawrence Abu Hamdan, Thomas Ashcraft, Robert Buck, Alexander Calder, Beatrice Gibson, Phillipa Horan, Channa Horwitz, Lucky Dragons (Luke Fishbeck and Sara Rara), Mark Lombardi, Herbert Matter, Haroon Mirza, Elias Sime, and Douglas Ross, as well as texts by media art historian Douglas Kahn, poet Bernadette Mayer, tropical ecologist Merlin Sheldrake, novelist Chloe Aridjis, and economic sociologist Juan Pablo Pardo-Guerra, among others.
About the composer / editor:
Gryphon Rue is a composer, improviser, and curator in the field of audiovisual culture. Rue performs in the duo Rue Bainbridge, which explores the intersection of expanded cinema with experimental music in relation to specific sites and audiences. Rue Bainbridge are the recipients of the inaugural Nam Jun Paik and Shigeko Kubota Video Art Prize (2019). Rue is co-curator of the Calder Foundation's 12-hour projects—continuous programming in non-traditional locations of cross-generational and cross-disciplinary works such as film, sound, static art installations and performance.
Copublishers
Inventory Press publishes books on topics in art, architecture, design, and music, with an emphasis on subcultures, minor histories, and the sociopolitical aspects of material culture.
Ballroom Marfa is a 501©3 non-profit organization and a dynamic, contemporary cultural arts space where varied perspectives and issues are explored through visual arts, film, music, and performance. As an advocate for the freedom of artistic expression, Ballroom Marfa's mission is to serve international, national, regional, and local arts communities and support the work of both emerging and recognized artists working in all media. Ballroom Marfa is particularly interested in helping artists and curators achieve projects that have significant cultural impact but would be impossible to realize in a traditional gallery or museum setting.
Facebook
Tweet