Rodger Binyone & Beehive Books Co-Launch featuring works by Rodger Binyone, Ronald Wimberly, Paul Pope, Pat Aulisio and LAAB Magazine
6-8PM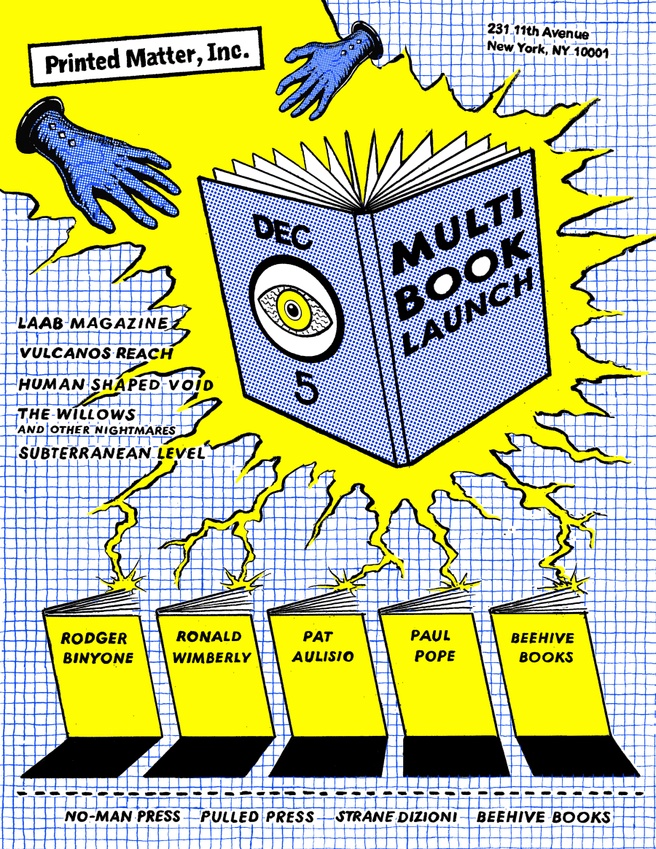 Join us for a co-launch event with Rodger Binyone of NO-Man Illustration and Beehive Books. The event will feature five new publications: Vulcanos Reach: Fumarole Imbroglio, Subterranean Level: 6xz01388v, LAAB Magazine, Human Shaped Void and The Willows and Other Nightmares.
Rodger Binyone is an illustrator, cartoonist, screenprinter, & musician living in Philadelphia.
Vulcanos Reach: Fumarole Imbroglio is a 48 page comic which finds a scorned geologist, and their cat Chompy, on a Volcanic adventure. Lava & vengeance are at hand, while the duo valiantly battle a sadistic megalomaniac, Ryszard Rasmussen, hellbent on stealing "Terra-X" terraforming formula from Vulcanos & creating a vast new archipelago for his trillionaire friends. Vulcanos Reach is the 14th book under the NO-Man Press, a self-published Imprint by Rodger Binyone. 3 color risograph interior pages, and a 5 color / 4 color screenprinted cover & inside cover. Edition of 250.
Subterranean Level: 6xz01388v is No.8 in the NO-Man Press multi-verse. First released in 2014, this 14 color, fully screenprinted, UV ink, illustrated narrative is being re-printed for the 2nd edition by Italian Publisher - Strane Dizioni. Edition of 300. Winner of Gold for 2014 Comic & Cartoon Annual by Society of Illustrators. Purchased by the MOMA Library Collection, and the NYPL system.
Beehive Books is a new small press imprint founded by artist and designer Maëlle Doliveux, and writer and editor Josh O'Neill, publisher of Locust Moon Press.
Ronald Wimberly is an artist who works primarily in design and narrative. He is also an accomplished cartoonist, having designed several graphic novels as well as shorter works for DC/Vertigo, Nike, Marvel, Hill and Wang, and Dark Horse.
LAAB Magazine is an annual broadsheet art newspaper created and curated by Ronald Wimberly (Prince of Cats, Black History In Its Own Words) and fueled by counterculture, social criticism, and comics. LAAB #4: This Was Your Life! takes on death itself, the end of days, and the meaning of horror in the Anthropocene, featuring the work of such luminaries as Emily Carroll, Ben Passmore, Sloane Leong, Jonathan Djob Nkondo, Hellen Jo, and Richie Pope. Its predecessor, LAAB #0, a searing Eisner-nominated treatise on the Black body in science fiction, was referred to by The Comics Journal as "a manifesto in action, as ideologically charged and aesthetically incandescent as the arc of a Molotov cocktail caught in mid-flight."
The Willows and Other Nightmares is the inaugural offering of Beehive Books' Illuminated Editions line, a deluxe series of slipcase editions in which classic stories of the past are brought back to life by the greatest illustrators of today. This lavishly illustrated 9"x12" volume presents The Willows, Algernon Blackwood's long-forgotten 1907 horror classic, stunningly illustrated by Paul Pope (Batman: Year 100, Battling Boy). Considered by H.P. Lovecraft to be the finest supernatural story ever written in English, Blackwood's tale follows two friends on an increasingly hallucinatory and hellish voyage down the Danube river in which the very trees seem to be eagerly watching, and waiting. The Willows and Other Nightmares also collects a number of Blackwood's other short fictions, with an introduction by master of horror Ramsey Campbell.
Pat Aulisio is a an artist and educator based out of Philadelphia. He has done numerous science fiction, humor, and experimental comics published across the world. His newest comic, Human Shaped Void, released by Irish publisher Pulled Press, is a walk through a unique abstract void dimension through the dialog of a lonely, internet obsessed, millennial.
Facebook
Tweet