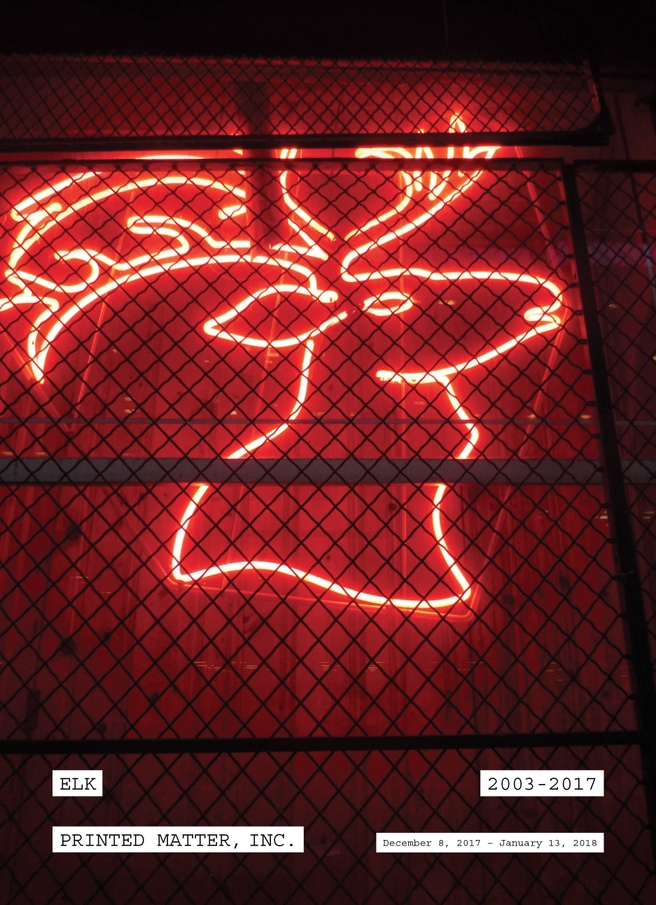 Event
Exhibition
Elk: 2003-2017
An exhibition by Jocko Weyland
Printed Matter is pleased to present Elk: 2003-2017, an exhibition of publications and corresponding print material by artist Jocko Weyland. A full run of Elk, the photocopied serial publication founded by Weyland in 2003, is on view alongside books published under the Elk imprint, original templates, posters for Elk Gallery shows, correspondence, ephemera, and future Elk material. A newly created Printed Matter

Elk zine and editioned poster will also be released on occasion of the show. Join us for an opening reception with the artist on Friday, December 8, 6-8PM.
Attend on Facebook here
Over the last fifteen years Weyland has produced thirty-four issues of Elk, always in a consistent 5 3/8 × 8" format, saddle-stitched, with a black and white interior and full-color cover. Supposedly themeless, Elk carries on the legacy of minimalist skate, punk, and off-center art magazines of the early- to mid-1980s, with – as Weyland has noted – a "discriminating catholic sensibility". The zine is simultaneously ruminative and unpremeditated, roughly constructed, built from the spontaneous connections that emerge as found materials are set in relation to one another in sometimes straightforward but often more allusive ways. The publications ask how images can be made to stand on their own.
To this end, each spread of Elk features a set of paired-off image/text excerpts that have been borrowed from various sources: found images from books and maverick periodicals, works of art, historical documents, letters, poems, and advertisements. Working through the immeasurably huge pictorial archive around him, Weyland identifies and isolates images, placing them into new contexts to ferret out unexpected and evocative cultural/subcultural affinities as well as formal and compositional resonances. As Weyland reproduces and re-scales each image, distilling down an archive of strange and challenging source material, he levels notions of "high" art and the underground, creating something that is at once serious and playful.
In addition to the zine, Elk also publishes books devoted to artists, writers, and catalogues for Elk Gallery exhibitions, an itinerant manifestation that has hosted 13 shows at unconventional spaces in New York, Los Angeles, and Beijing. These works are also on view.
In loving memory
Shannon Michael Cane 1974-2017
Jim Walrod 1961-2017
True friends, comrades, and supporters of Elk