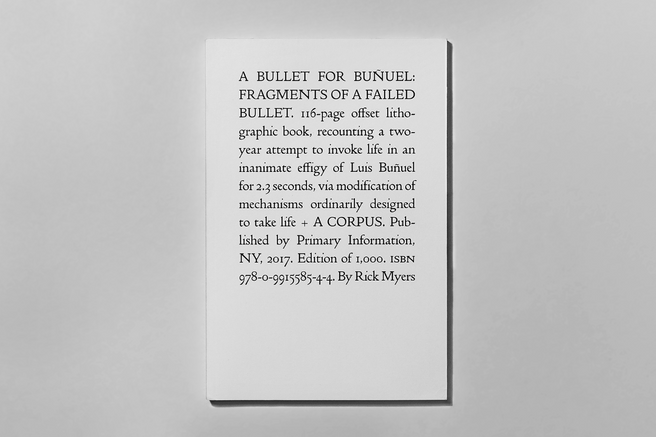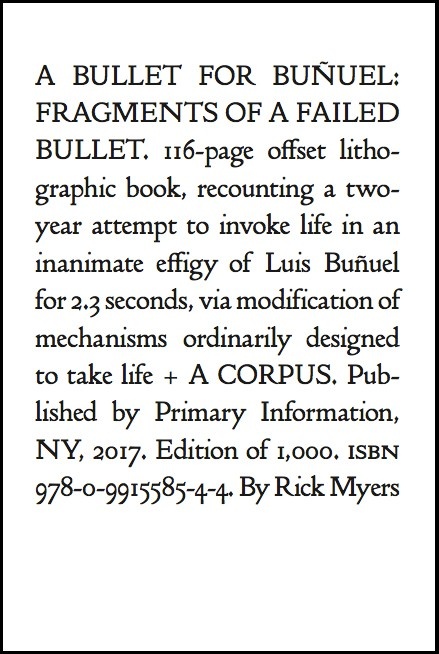 Event
'A Bullet for Buñuel: Fragments of a Failed Bullet' by Rick Myers
Published by Primary Information
Join us for a book launch with artist Rick Myers as he releases A Bullet for Buñuel: Fragments of a Failed Bullet, newly published by Primary Information. Myers will present a performative lecture related to the project starting at 5.30 pm.
A Bullet for Buñuel: Fragments of a Failed Bullet documents Myers' attempt to complete a project begun by the late filmmaker Luis Buñuel: to create a bullet possessing such a weak charge that it would simply bounce off the filmmaker's shirt when fired at him. Consulting with the estate and sources ranging from online forums for bullet makers to a ballistics lab associated with the U.S. Secret Service, Myers sought to make the bullet and fire it at a shirt that had been worn by Buñuel. While trying to bring this absurdist endeavor to completion, he was met with a colorful cast of characters and failures at almost every turn.
A Bullet for Buñuel has taken many forms—a video work, a multiple, and a performative lecture—all of which are represented in this publication. Myers' writing, research, correspondence, and photographs are also included in the book, which synthesizes years of work into a singular meditation on the poetics of failure.
Rick Myers is a Manchester-born artist and publisher living in Massachusetts. Myers works in a variety of media including video, installation, and drawing in addition to artists' books and editions. Solo exhibitions include: The Poetry Library at Southbank Centre and The Book Library at The Courtauld Institute of Art, London (2015); Printed Matter, New York (2011); White Columns, New York (2009).