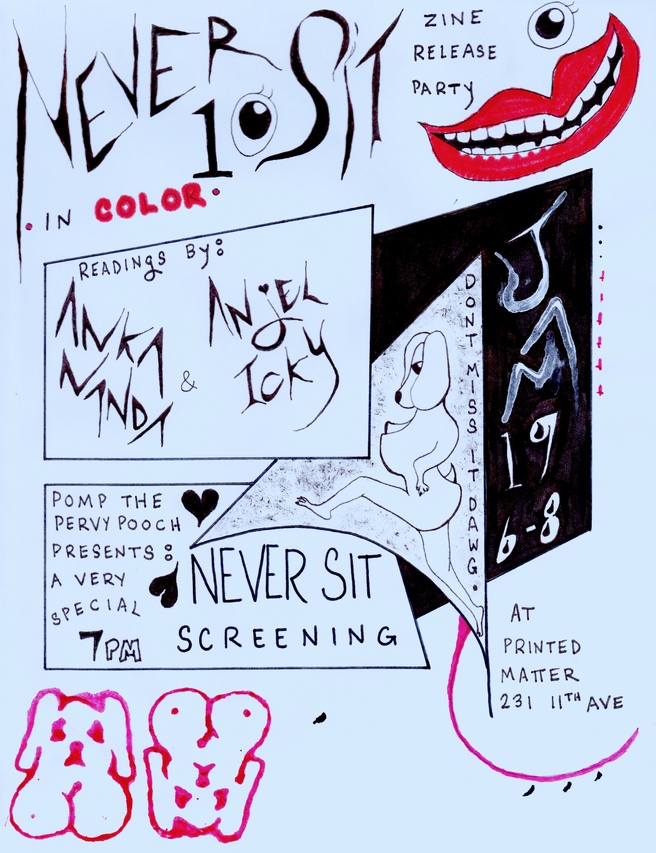 Event
Never Sit – Issue 10 Zine Launch
Never Sit is a platform to study the nature of everyday womanhood. Every issue targets one or two specific issues that face the modern woman. Some past issues have addressed lingerie, toplessness, peeing, tampons, transportation, chivalry, valentines day, halloween costumes, as well as whether or not to wear underwear.
Our mantra and title "Never Sit" stems from the core value of our publication. The belief that no woman should be forced to sit – psychologically, nor on the head – and that through examination certain western practices will change.
Please join us for the release of the 10th issue of Never Sit. This anniversary issue will have the highest number of contributors to date, and be printed in color! Anka Nanda and Anjel Icky will be gracing us with live oral performances. Both readers are women with mouths, and lips that are sharp enough to cut:
ANKA NANDA [Anahit Gulian] is a veteran contributor to Never Sit. Her dark writing and aesthetic have won her many admirers in both the poetry and punk music loving communities.
ANJEL ICKY [Anjelica Young] is truly a hummingbird of an angel, she is an expert at expressing dismay and is welcomed as a new addition to the Never Sit dialogue.
Although Never Sit is primarily a print experience, the release will include a special Never Sit video screening. All are welcome to join us at our perverted-pottymouthed-party.