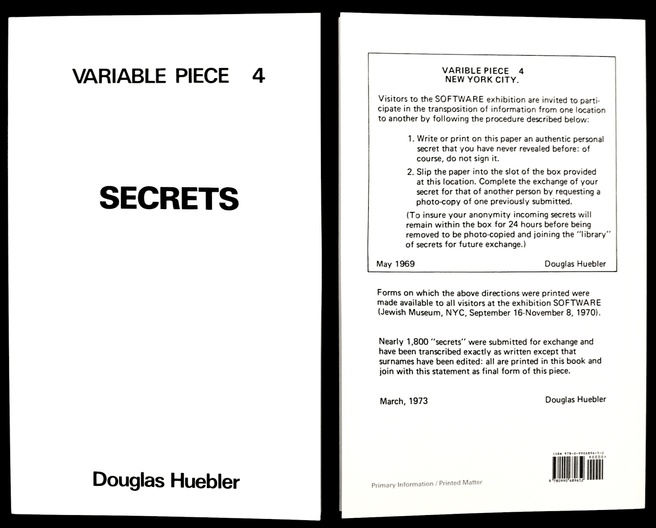 Announcement
New Publication: Douglas Huebler – Variable Piece 4: Secrets
December 17, 2016 - January 14, 2017
We are pleased to announce the release of Variable Piece 4: Secrets, a facsimile edition of Douglas Huebler's classic artist book, co-published with Primary Information.
This publication collects 1,800 secrets submitted anonymously by visitors to Huebler's Variable Piece 4 at the Jewish Museum's 1970Software exhibition. In the piece, the artist asked visitors to write and submit "an authentic secret never before revealed," which he then photocopied before giving each participant someone else's secret in exchange. Several years later, the artist compiled the secrets into a book that was published by Printed Matter in 1978.
As with his other Variable Pieces, Variable Piece 4 showcases the artist's open-ended and variable approach to art making, which sought to undermine the dominance of object-oriented practices in favor of a text-driven conceptualism that relied on variables outside of the artist's control, particularly those relating to an outside public. The result was a fleeting glimpse into the cultural, political, and social preoccupations and anxieties of the era.
Pioneers of the artists' books medium, of which Huebler was one, predicted that one day artists' books would be sold next to detective and romance novels in drugstores and supermarkets throughout America. While this dream was never
realized, Variable Piece 4: Secrets could easily find its place amongst these popular genres; a true page-turner that delivers the whodunit in succinct statements, ripped from real life, without the hassle of narrative arcs, prefaces, or chapters.
Variable Piece 4: Secrets is co-published with Primary Information. It is produced in an edition of 1,000 and retails for $16.00. The book is 5.5 × 8.66 inches, B&W, and 94 pages. Available for purchase

here