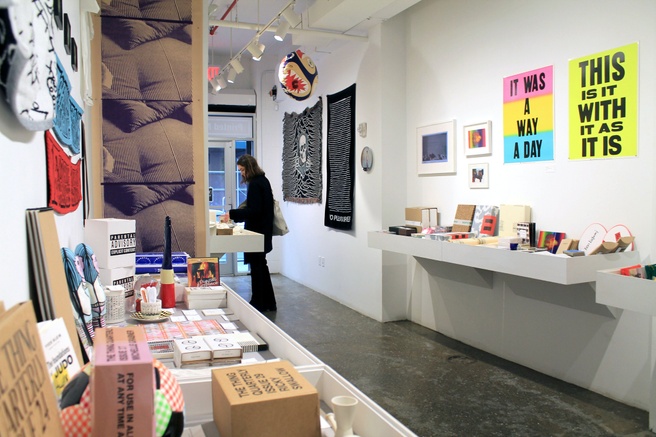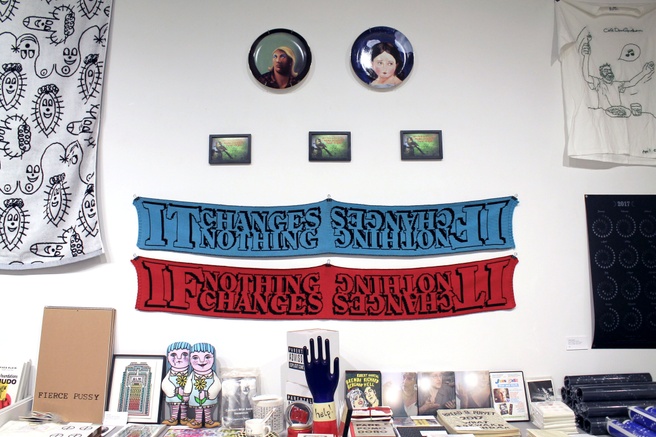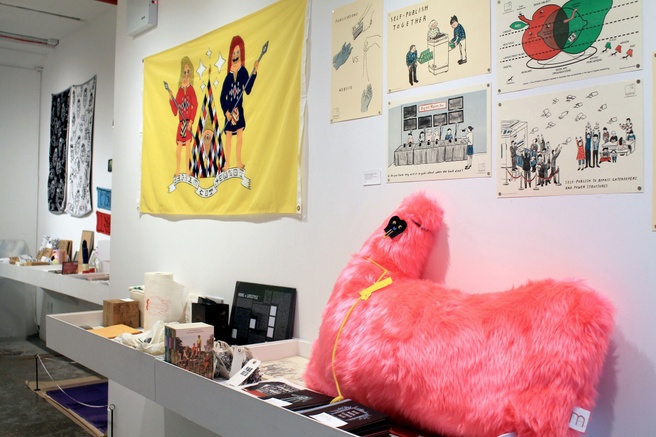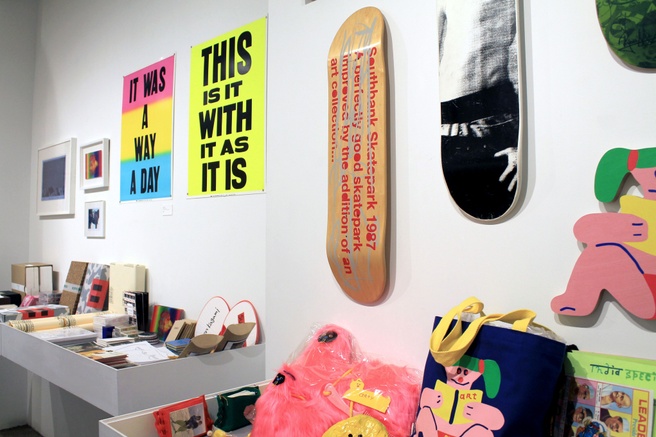 Event
Exhibition
GIFTLAND X : @POCALPY$E A holiday sale of artists' multiples
December 3, 2016 - January 14, 2017
GIFTLAND X : @POCALPY$E A holiday sale of artists' multiples
December 3 through January 14
Opening Reception : Thursday, December 8, 6 – 8 pm
Printed Matter is pleased to present our annual selection of presents: great gift ideas that fill our gallery space, cover our walls, all in the form of artist-made multiples, posters, editions, prints, box sets, and of course, books! Something for everyone can be found here and the choices abound. Shop for friends, family, and yourself this holiday season while simultaneously supporting artists and the arts non-profit that supports them.
 
We have books large and small – perhaps even the smallest book in the world – HIMAA's Smallest Book ($3), invisible to the naked eye, except for its packaging. The runner ups, the second smallest books ever, are also on display:Dikko Faust's earBook Bookshelf, a small shelf with four tiny, beautiful, handmade and letter pressed books ($60), impressive because of, and also regardless of, their size.
 
For the naked-minded eye we have Ken Kagami's newest edition with The Thing Quarterly – Issue 31 ($65) a black and white bath towel patterned with smiling private parts – plus a zine. If that's not enough of the hidden stuff we have Kagami's recent Nieves zines Boobs ($8) and Hair ($8) as well as the Printed Matter NYABF Fundraising edition Supreme Fan($10), if you are feeling hot, or modest.
 
If recent political events have left you feeling cold we still have Lisa Anne Auerbach's knitted scarves If Nothing Changes, It Changes Nothing ($500) available in Blue and Red as well as the last copies of her book Charted Patterns for Sweaters that Talk back  ($30). Made during the dark days of the Bush presidency, the book has renewed relevancy:  pick up a copy and your knitting needles and begin work on wearable protest signs and complete them in time for the inauguration.
 
To inspire you or the woman in your life before the Women's March on Washington, we have Nicole Eisenman's Time of Day: Dusk plate ($500), Caroline Paquita's Happy Sad Lady Doll 's ($40) to mirror your feelings, and her Cunt Hanky ($20) to dry your tears with. We also have Ligorano/Reese's Fuck Snowglobes ($60) back in stock. Need we say more.
 
Lest we forget beauty and the light in the darkness, we also have a selection of gorgeous and expertly screen-printed artists books by the great David Sandlin, including his moving Ooooo My Son, All of This Is Yours($150) and his delightfully disturbing Scatalog Vol.  ($150).  We are also very excited to exhibit and offer a rare work by Marilyn Minter, Sleep Drawing ($5,000), a 16 ft long treated blueprint of repeating images of pillows, made in New York by the artist in the late 1980s. It's worth a visit just to see it!
 
There is so much more in the store! So Come By! And Come Buy!
Curated by Printed Matter's Christina Martinelli.