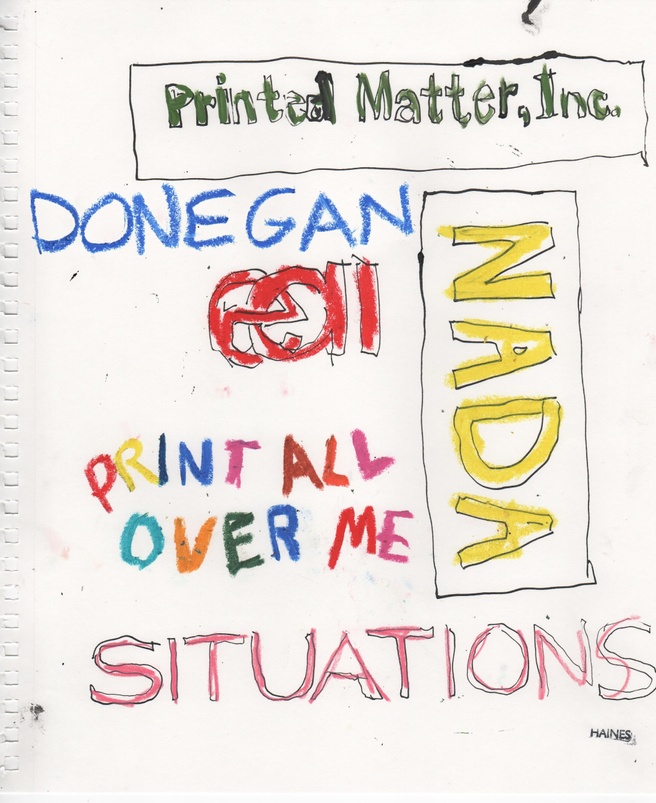 Event
SITUATIONS presents: Cheryl Donegan Zine Launch
SITUATIONS and Printed Matter are pleased to present a special zine launch for artist Cheryl Donegan with live drawing by illustrator Richard Haines at Printed Matter on Thursday, November 19, 2015, from 6:00–8:00 PM.
The new zine features Donegan's fashion-forward collection, Broken Gingham, originally presented at NADA New York in May 2015 in Contemporary Fashion, a hybrid fashion show/performance, with live drawing by fashion illustrator Richard Haines. The collaborative project was curated by artist Sam Gordon. For the evening at Printed Matter, raw footage from the performance will be screened with support from Electronic Arts Intermix.
Donegan developed and produced the Broken Gingham collection with PAOM (Print All Over Me), an online platform and creative community to create, share, sell, produce, buy, and design clothing. For the collection, she explores her concept of "being-on-the-surface" and the "quotidian, fluid relationship between the tactile world and the virtual one" through her playful engagement with fashion, textiles, texture, pattern, and layering. Donegan scanned gingham fabrics and uploaded the images into PAOM's online templates. The gingham patterns are transformed further once they are printed and mapped onto the physical garments and worn on bodies—giving the two-dimensional texture of gingham volume and spatial dimension.
For the performance at NADA New York, Donegan combined clothing from the collection with garments from her own closet and pieces owned by the models. The presentation also featured a selection of new and recent NADA x PAOM garments by artists Sarah Braman, Bjorn Copeland, Daniel Heidkamp, and Amy Yao.
SITUATIONS is a fluid and expansive curatorial project founded in New York City in 2015 by artists Sam Gordon, Jackie Klempay, Mariah Robertson, and Jacob Robichaux.
In collaboration with EAI and Printed Matter
With live drawing by Richard Haines
Special thanks to PAOM and NADA
http://www.situations.us
http://www.eai.org
https://printedmatter.org
https://paom.com
http://www.newartdealers.org