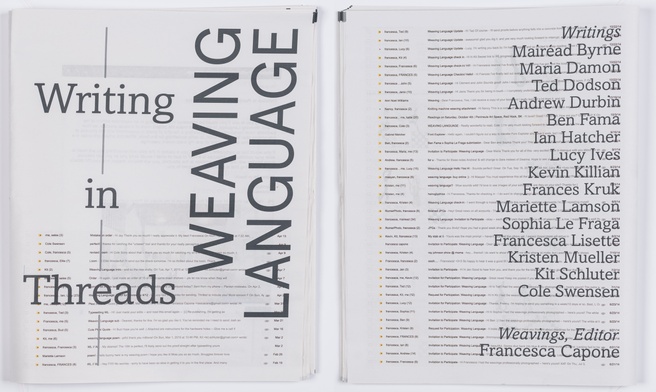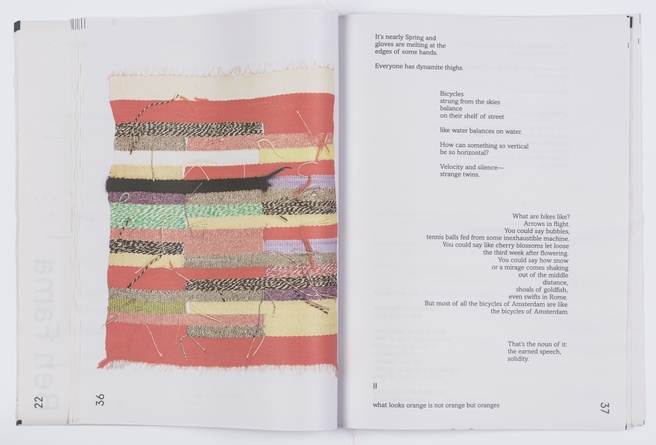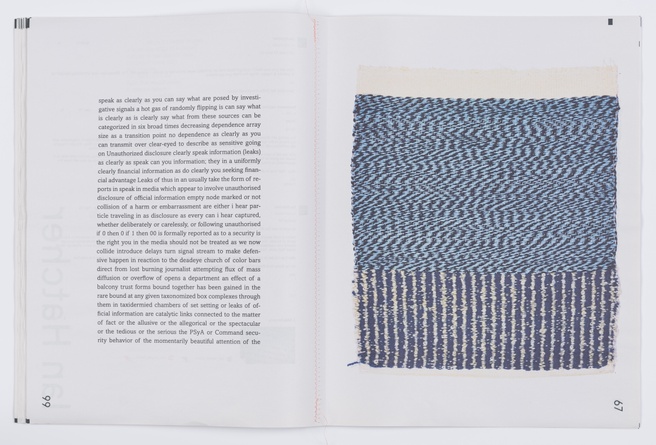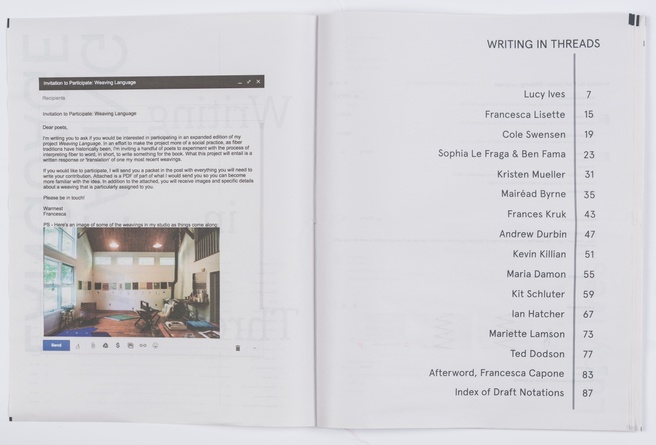 Event
Writing in Threads by Francesca Capone – Group Reading
Join us for readings by Mairéad Byrne, Maria Damon, Andrew Durbin, Ted Dodson, Ben Fama, Ian Hatcher, Lucy Ives, Mariette Lamson, and Sophia Le Fraga on occasion of Francesca Capone's Writing in Threads Publication.

In Writing in Threads fifteen writers are invited to respond to weavings made during Capone's residency at the Anni and Josef Albers Foundation. This book is a collection of weavings, poems, and e-mail 'threads' that document the development of the project. Here, writing in threads takes on meaning beyond metaphor. Notions of communication that might occur between a stitching circle and a community of writers are collapsed as epistolary relationships are formed that intermingle cloth and word. Weaving is recognized as an alternative analog equivalent to various writing technologies, and writers and weavers alike are invited to participate in the re-amalgamation of these forms. 
Writing in Threads is the third work in the Weaving Language series by Francesca Capone. This newsprint publication examines the poetics of weaving traditions through historical research as well as contemporary practices. Attempting to dismantle and rebuild commonplace understandings of the history of writing, Weaving Language focuses on fiber-based forms as a longstanding but often overlooked medium for record keeping, storytelling, and poetry.
Writing in Threads is bound with a zig zag stitch. 88 pages, published in an edition of 150.
The reading coincides with the closing of Capone's exhibition Writing in Threads at 99c Plus Gallery
Francesca Capone would like to thank:
Foundation for Contemporary Arts Emergency Grant
Anni and Josef Albers Foundation
Creative Arts Council at Brown University