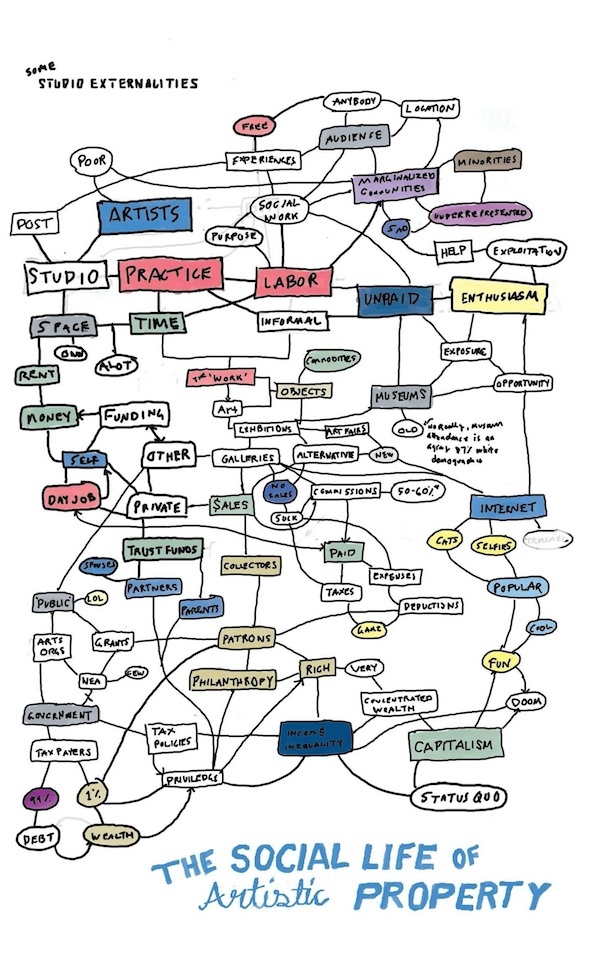 Event
The Social Life of Artistic Property – Conversation with Michael Mandiberg, Nicholas O'Brien, Amy Whitaker, and Caroline Woolard
Michael Mandiberg, Nicholas O'Brien (standing in for William Powhida), Amy Whitaker, and Caroline Woolard in conversation about their self-published volume, The Social Life of Artistic Property. The talk will start at 6:30 PM.
What happens when twelve artists gather to discuss the relationship between art and property? In twenty meetings over two and a half years, the core group of Pablo Helguera, Michael Mandiberg, William Powhida, Amy Whitaker and Caroline Woolard birthed this provocative volume. The group produced three pieces of writing about experiments in group living and three proposals for the future of artistic property, including initiatives that reimagine studio space, living space, and artwork. The group is grateful for contributions to this conversation by many others, whose contributions are published elsewhere. Bound together, here is a record of the group's research and an invitation to consider the forgotten histories and plausible futures of the social life of artistic property.
The book is available through the Printed Matter website

here
Please RVSP to news@Printedmatter.org
Visit thesociallifeofartisticproperty.com for more information.